Wedding Planning is important, but so is Financial Planning…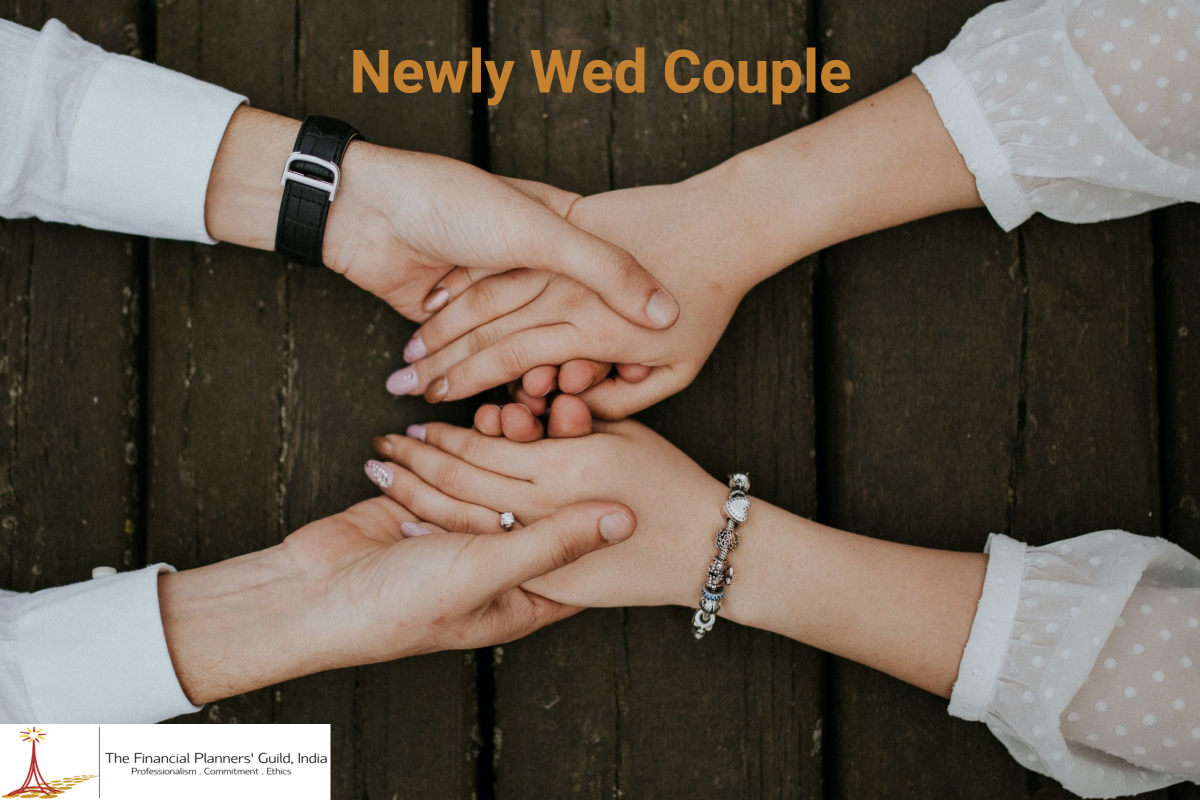 Getting married is exciting but it brings added responsibilities along with joy and happiness. Suddenly 'I' becomes 'WE' and all decisions become joint decisions – be it personal, professional or financial. The financial decisions you make as newly married couple impact your financial future together.
But people spend more time in planning for their wedding and/or vacation, than planning for their financial future. They don't realize the importance of Financial Planning and even if they do, most newly-weds put Financial Planning on a back side. Also at times due to pressure of starting a new life together, many couples forget to organize their finances until money becomes an issue.
Lack of Financial Plan and Financial Discipline causes stress and insecurity, which often leads to arguments and marital discord. You need to sit down together, discuss, plan and take action on the following areas:
1. Discover Your Financial Goals
The first thing newly married couples need to do is to discuss and get clarity on their financial goals. Make a list of your short-term goals like paying off wedding debt (if any), vacation or buying a new car, along with long-term goals like buying dream home, kid's education and retirement. Once you list down all possible goals, you need to prioritise them and determine which goals are most important for you. After identification and prioritization, you can start channelizing your money and energy towards achieving them.
2. Prepare a Budget
Budgeting is important for Financial Prosperity. The next step is to prepare a realistic budget listing incomes and expenses (both combined and individual). Now add the two and compare them. Hopefully, you will get a positive number reflecting your investible surplus which can be diverted towards achieving your financial goals. If you get a negative number (when your spendings are more than your income) or get a small positive number, it's time to review your expenses and see where you can cut down.
3. Get Rid of Debt
It's great to start debt-free after marriage, but you might have few debts to clear off like loan from friends / relatives, credit cards, personal loan etc. Start settling your credit outstanding beginning with the highest-interest bearing loans. Devise a plan for short-term debt like cutting down on discretionary / lifestyle expenses or taking up a part-time job for extra income.
4. Go for a 'Power Account'
Another must do financial exercise post-marriage is building a 'Power Account', i.e. emergency fund with at least 3 months of expenses to take care of unforeseen incidents in life like job loss, pay cut, temporary disability etc. Generally people realize the importance of 'Emergency Fund' only when they face the unfortunate events. Emergency fund reduce your financial stress and make your budgeting easy When unexpected events turn up, you don't have to re-valuate your budget to count for those things.
5. Update Financial Documents
Many people don't give importance to updating financial documents after marriage but it's crucial. Marriage Certificate is the first important document that needs to be filed by the couples. Wives' should also get their passport and PAN Card updated with husband name. Couples should also get the nomination updated in respective insurance policies, investments and bank accounts. Power of Attorney can be issued in favour of each other to save legal problems in future.
6. Protection Planning
After marriage, you need to review your insurance needs in the light of added responsibilities. If both of you are working, you need to buy new life insurance policies naming each other as beneficiary. In case of single member working, he/she should go for extra life insurance cover. With increasing medical costs, it becomes imperative to have sufficient health insurance. If both of you have individual health plans, you have to compare them by a cost-benefit analysis and see if it make sense to move to a family plan.
7. Investment Planning
Both of you might have existing investments in the form of mutual funds, fixed deposits, insurance policies etc. started by you before marriage. Now is the time to synchronize them and map them to your financial goals. If you get the facts right on saving and investing and follow through with intelligent investment plan, you will attain financial security. Just be consistent in your approach.
8. Plan for Retirement
Start planning for your golden years well in advance. Most of us dream of retiring early with good corpus, but very few take it seriously and start working on it. It's never too early to start planning for retirement. Decide jointly the retirement age and retirement corpus needed and start working on it.
9. Preparing for Parenthood
You must have heard from your friends or relatives that having kids is expensive now-a-days. Yes, they are. Parents usually spend at least Rs. 10 lakh on one child during his/her lifetime. That's' huge and you need to plan for that.
10. Decide on Record Keeping System
Both of you should decide who will manage record keeping and payment of bills. Anyone can do it or you can do it on rotation basis or jointly. Develop a record-keeping system that both of you can understand. Make sure that you keep your records at a convenient place so that anyone can access them easily.
Conclusion
Many new couples find it hard or embarrassing to talk about money or debt with their spouse. The key to reducing financial stress is to openly discuss money matters on a regular basis and follow a predetermined strategy consistently. No two people have the same money personality so it's important to determine upfront what's important for both of you.
Future is uncertain and financial situation may change over time, but with comprehensive financial planning, most couples can survive the tough financial period. If you find problem in executing the above advice, you can contact a Certified Financial Planner for professional support.