Gold has immense attraction for all. If there is a gold product launched, there is immediate interest generated. Most people have now started looking at gold beyond jewellery, in the form of investments. There are several options available now for people to invest in gold. One of the lesser known ones is the NSEL E-GOLD product. Let us look at what this product is all about.
The Institution
National Spot Exchange Limited (NSEL) is a national level exchange in the commodities market. It commenced operations in October 2008. It is a delivery based market place for electronic trading in various commodities. It is promoted by Financial Technologies (India) Ltd and National Agricultural Co-operative Marketing Federation of India Limited (NAFED). It has licenses issued by various state governments for trade in agri-commodities. It also provides delivery based trading in bullion and other metals.
The activities of the exchange cover a wide domain of regulations. The three main regulators are the State Agriculture Marketing Board (SMB), Forward Market Commission (FMC) and the Warehouse Development Regulatory Authority (WDRA). The NSEL E-GOLD product comes in the regulatory domain of the FMC.
The Product
NSEL has launched the E-series of products starting with E-GOLD on 17 March, 2010. Investors can purchase gold in small denominations in electronic form and hold it in demat account. Since the whole process happens through a demat account, the process of purchase and sale is similar to what is done for equities in the demat account. The trading is done in multiples of 1 unit of E-GOLD where 1 unit is equal to one gram of gold. The purity is 995. The pricing is linked to Indian gold prices, as opposed to gold ETF's which have pricing based on international gold prices. The purchase can be done through members of NSEL or their franchisees. An investor can be an individual, HUF, society, trust or a corporate. The E-GOLD units can be surrendered to take physical delivery of gold. The physical gold can be taken in multiples of 1gm, 8gm, 10gm, 100gm and 1kg and any combination thereof. The physical gold will be delivered only at specific centers which are currently available in 13 cities.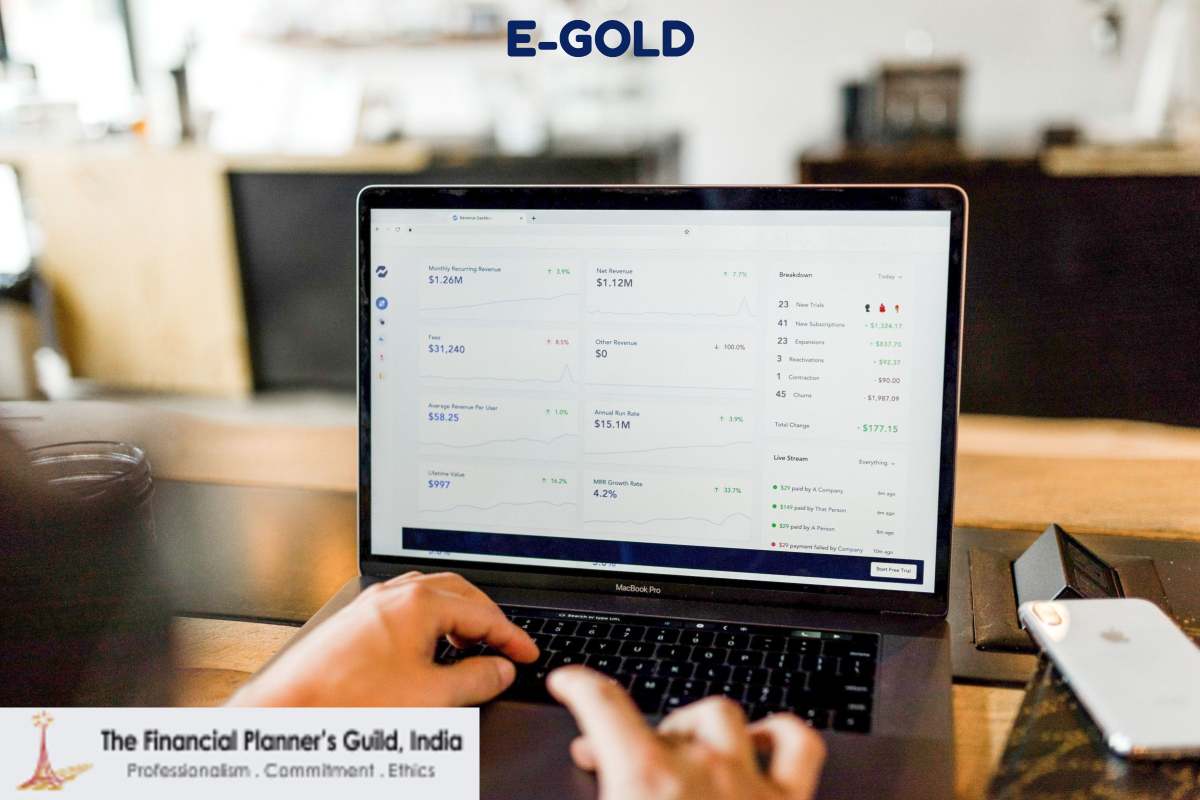 An investor will have to open a separate demat account to buy the e-series products. An existing demat account which is used for equities will not do. If you have a commodities demat account with MCX, that can be used for this product.
Charges:
Demat account opening charges s levied by the depository participant (Variable)
Annual demat account charges (variable)
Broking Charges.
In case of surrendering units to take physical gold:
Making/packing charges of Rs.100 for 1gm, Rs.400 for 8am and 10gm. No charges for more than 10gm.
VAT/GST, local taxes, octroi as applicable depending on the place of delivery.
Taxation:
Short term capital gains will be payable in case of sale before 36 months as per the income tax slab rate of the investor. If the holding period is more than 36 months, the gains will be treated as long term capital gains. This will be taxed at the rate of 20%. Wealth tax is to be paid at the rate of 1% of the amount by which the net wealth exceeds Rs.30 lakhs. E-GOLD units are counted in this net wealth.
Grievance Redressal:
In case of any investor grievance he has to first approach the broker for resolution. Escalation will be to NSEL and then to the Forward Market Commission (FMC) and still unresolved disputes will have to go to Court. This is in line with the policies of the other commodity exchanges.
Pros:
It is a totally electronic platform.
You can convert units into physical gold
SIP facility is available to enable retail investors to accumulate gold over a longer period.
It is the first ever investment product in commodities in India to receive a Shariah Compliance Certificate from the Shariah Advisory Board. So it's a big plus for followers of Islam.
No fear of theft as it is in electronic form
Cons:
Pricing tracks the local gold price.
A separate demat account is required thus increasing fixed expenses to be incurred by the investor.
A separate trading account also needs to be opened if the depository participant does not have broking facility for NSEL.
Physical E-GOLD v/s Banks and jewellers?
The table below shows a comparison of getting gold in the physical form by surrendering units vis-a-vis the purchase of gold coins from banks and jewellers. It shows that E-GOLD is one of the cheapest options available. Please note that this has not taken into consideration the charges related to the demat account.
Comparison dated 19/10/2012
Source: www.nationalspotexchange.com
| | | | | |
| --- | --- | --- | --- | --- |
| Particulars | E-GOLD Delivery | HDFC Bank# | SBI | Jeweller  (Tanishq) |
| No. of Unit (gm) | 10.00 | 10.00 | 10.00 | 10.00 |
| Base Price Rs./gm (Previous close) | 3188.80 | 3676.50 | 3314.10 | 3586.00 |
| Premium of 999* purity | 12.768 | 0.00 | 0.00 | 0.00 |
| Price for 999 fineness Rs/10gm coin | 32015.68 | 36765.00 | 33141.00 | 35860.00 |
| Brokerage @.25% of purchase rate (Rs./unit) | 7.97 | 0.00 | 0.00 | |
| Total brokergae (Rs./10gm) | 79.72 | 0.00 | 0.00 | |
| Servcie [email protected]% on brokerage | 9.85 | 0.00 | 0.00 | |
| Delivery Charge (Rs./10gm) | 0.00 | 0.00 | 0.00 | |
| Coin making charge (Rs./10gm) | 400.00 | 0.00 | 0.00 | |
| Storage Charge( Rs.) | 0.00 | 0.00 | 0.00 | |
| VAT (1%) | 320.16 | 0.00 | 331.41 | 358.60 |
| Total overheads (Rs./10gm) | 809.73 | 0.00 | 331.41 | 358.60 |
| Net Cost of 10gm coin of 999 fineness (Rs) | 32825.41 | 36765.00 | 33472.41 | 36218.60 |
| Price Difference E-Gold Coin v/s others | | 3939.59 | 647.00 | 3393.19 |
# price inclusive of VAT         *NSEL EGOLD is quoted for 995 purity
NSEL E-GOLD v/s Gold ETF?
Gold ETF scores high in terms of its simplicity. There is no need to open separate accounts, hence it has less hassles. The returns are shown below:
Source: www.nationalspotexchange.com
| | | | |
| --- | --- | --- | --- |
| | NSEL-EGOLD | Gold BEES ETF | SBI GETS ETF |
|  Mar 17,2010 (Launch Date) (Rs./unit) | 1700.80 | 1648.40 | 1680.00 |
|  Oct 18,2012 (Previous Close) (Rs./unit) | 3188.80 | 2956.70 | 3031.55 |
|  Profit (Rs./unit) | 1488.00 | 1308.30 | 1351.55 |
Thus the returns  on NSEL E-GOLD are higher.
Gold ETF's score better on the taxation front as the gains are taxed as long term capital gains after a period of holding of 12 months or more. The units of ETF are also not included in calculation of wealth tax, unlike those of NSEL E-GOLD.
Conclusion:
If you are comfortable managing multiple accounts, you can opt for this product to accumulate gold over longer durations.  A noteworthy point is that you can use this account to buy other commodity products like E-SILVER, E-PLATINUM etc.
SIPs have become a common tool to invest in equity mutual funds. It is very convenient, automated process. For the same reason many people prefer purchasing gold through Gold Savings Funds (GSF) offered by mutual funds. These funds have dual charges as they are by nature fund-of-funds. So you incur the cost of the GSF and the cost of the ETF. In that scenario, if you are looking for SIPs, NSEL E-GOLD  is a better product.
This product tracks the local gold price. Since India imports most of its gold, there can be a currency risk in this product. When the international rates are low but Indian rates are stable/high due weakness of the rupee, it will benefit the investors who want to exit, but will hurt the people who are SIPping. In this scenario, purchasing internationally benchmarked ETF's will be better.