Life is very fragile and even more so is health. Most of the times people take life and health for granted and assume that things are always going to be fine and therefore also take planning for life and medical covers very lightly.
Life is becoming very dynamic in every sense with each passing day, be it in the area of work, relationships or health and yet people risk health for the sake of work or money. Then they spend that money to artificially restore health with medication, helping and enriching only the medical fraternity. Though mankind has evolved and progressed very fast and is capable of innovating medical solutions for various medical conditions, it has failed to keep up pace with the ever changing and evolving viruses that infiltrate our bodies. Sometimes these viruses occupy a place for a long time, even till the last moments of life, creating damage beyond repairs. This thought itself creates nervousness and can have devastating impact on the family, their future and finances.
Here are some medical conditions, particularly where the outcomes are beyond the control of the medical profession. These can be described as under:
a)     Dialysis, cancer which needs recurring medication, restrictions on movements & deteriorating physical condition with limitations in employability.
b)     Paralysis requires long recovery periods with continuous monitoring and medication leading to bed rest & total dependence resulting into unemployment and concern for the rest of the family.
c)      Heart aches, diabetes leads to continuous diet monitoring, careful movement and other limitations.
All the above conditions result, most of the times, in reduction of earnings & working capacity for longer periods and sometimes in its discontinuation also, which invariably necessitates alternate resource requirements for the family. In such circumstances the rest of the family has to shoulder not only the day to day expenses, but also the additional ongoing medication costs along with the future requirements such as education, marriage etc. and any shortfall can lead to a compromise.  Even if the full family is insured one needs to understand in advance, that the medical cover does not take care of expenses such as second opinions, travelling to and fro for various tests and the time spent by attendants, besides being mired by limitations by way of a cap on the cost shared by the insurer among other things.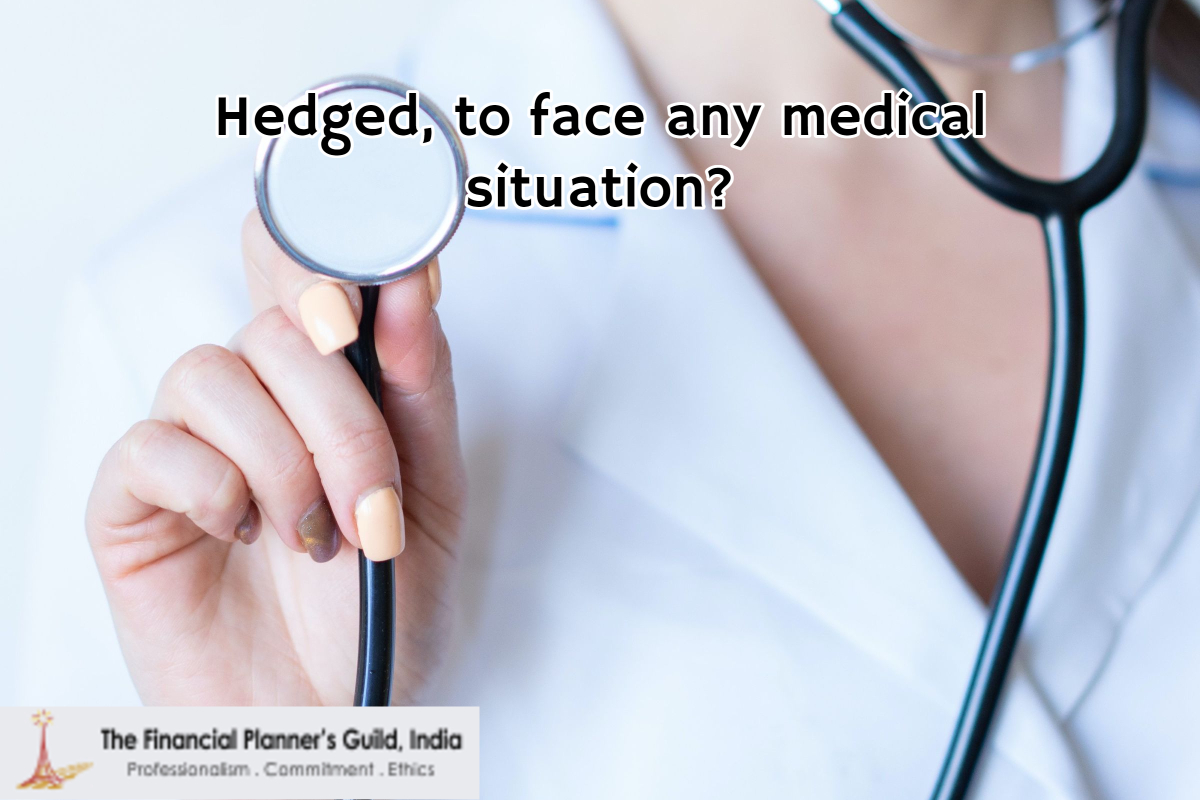 Some prescriptions to avoid possible disasters:
Prevention is always better than cure. Health first, nothing can beat this. Every family can work as a team and be aligned to the goal, which certainly calls for review of the:

Day to day workouts and exercise habits
Food habits
Stress

Medical history – analysing family's medical history, every individual's existing medical conditions, understanding it and accordingly deciding the future strategy
Medical cover – based on the above

The quantum of coverage required, Individual policy or Floater one, further wherever one has the employer's cover, is it enough or should one go for an additional personal policy now or in the future
The limitations of the policy with respect to coverage of conditions, limitations of amount covered etc.

Critical illness cover – should be specifically opted for based on family history and wherever affordable.
Medical corpus – comes in very handy in cases like:

No coverage due to age or existing ailments or limits in the policy
Continuous care and medication is required for longer periods of time
Discontinuation / partial continuation of regular work either of the effected or the caretaker.

Continuity of income – in extreme conditions, calls for someone to take over the role to run the show or bear the additional burden, besides providing the care and support.  So a qualitative check about the employability in the family – is the spouse ready and capable enough to take over the burden of the family and to lead it through the situation and in the future, if necessary?
Support systems – With the weakening of the joint family system, relationships counts all the more, if maintained and reciprocated well with family, friends and colleagues. The support provided can be in terms of:

Financial
Physical presence during hospitalisation since one need to attend the affected as well as the ones at home or school etc.
Understanding the nitty-gritty with the hospital and attending doctor and medical cover formalities

Financial literacy – comes from continuously sharing on aspects like current financial situation, investments, liabilities etc.
Awareness and readiness helps families to align better on various aspects like health, lifestyle, finances, understanding, overall growth etc. and deal with such disasters better.