Six months back, Praveen Hazare died due to heart attack when he was 65 years old. He was staying in Thane with his spouse and two married sons. He had a flat in Mumbai and a flat in Bangalore. He died without making a will. After his death, there were disputes on sharing of properties. The dispute now has to be decided by the court as per the Succession Act which will take a very long time. This could have been avoided had he made a will.
Who can create a Will ?
Any person who is above 21 years of age and is of sound mind can make a Will. But it will come in to effect only after the death of the person who makes it (testator). The Will can be revocable at any time during one's life time. When testator makes a new will, it supersedes all earlier wills.
Steps to make a Will
Declaration in the beginning: While making a will, one has to declare that he is of sound mind and free from any kind of pressure. Then testator needs to mention his name, address, age, etc at the time of writing the will. He needs to appoint an executor for executing the will after his death otherwise court will appoint one.
Details of Property and Documents: The next step is to provide list of items and their current values, like house, land, bank fixed deposit, postal investments, mutual funds, share certificates owned by testator. He must indicate where these documents are stored.
Details of ownership: At the end of the will, testator should mention who should inherit which assets and in what proportion.  If assets are meant for minor(s), it should be clearly mentioned so in the will. The name of the guardian also should be mentioned. The guardian will use the assets for the minor as intended by the testator.
Signing the Will: After completing the Will, one must sign the will along with two witnesses. The date and place must be indicated clearly at the bottom of the will. It is necessary that the witnesses should sign all the pages of the will. It is advisable for the two witnesses to be a doctor and an attorney. A doctor will vouch for soundness of the testator. The attorney will make sure not to make stupid mistakes in the will.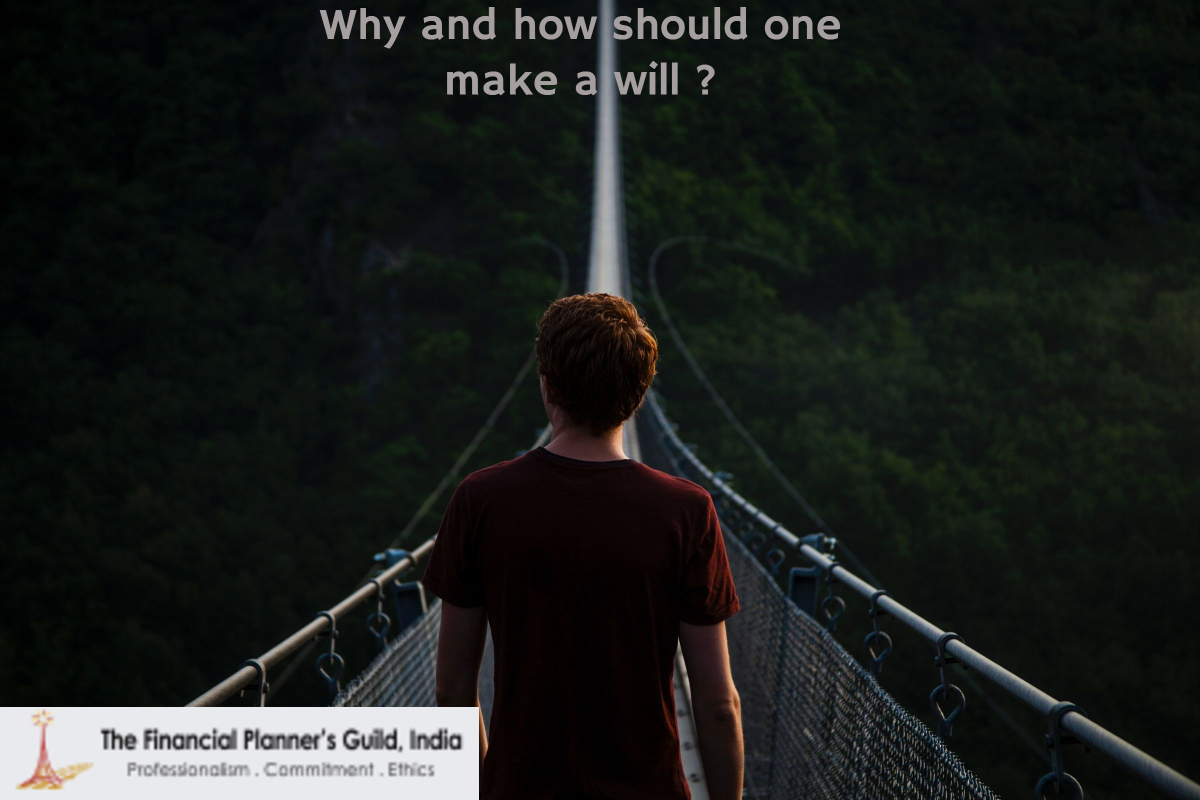 Other Important Points
In case of bank accounts, insurance policies, bank locker and real estate, the nominee is considered as the trustee and the legal heirs can make the claims of ownership.
In case of stocks, shares and demat accounts, the nominee is entitled to the entire sum being nominated in his/her favour. As per a recent ruling by Bombay High Court, the legal heirs cannot claim any amount generated from the sale of such shares.
In case of PPF accounts, it is important to have nomination. In the absence of the nominee, the legal heirs get only upto Rs 1 lakh from the PPF account.
Sample Will (India)
I…………………………………….. aged……….. years (occupation…………………….. ) here by write my final Will. Any wills written previously are hereby revoked under the law of India. I am writing this will freely and under no duress. I am of sound mental and physical health and in a position to comprehend what I write in this will.
I appoint……………………………………………as the trustee and executor of my will.
As of today I own following things which I would like to consider for division after my death. (Assets are hypothetical and provided for reference)
One 2BHK Flat at (address) with areas of 1200 sq foot, bought on 5th Jan 1996 costing Rs 14,00,000/-
Cash of Rs 3.5 lakhs/- in my fixed deposit at SBI, Vashi, branch.
500 Mutual funds unit of HDFC Top 200 and 4500 shares of TCS in my demat account.
All the documents are kept in my BOI locker at Fort, Mumbai branch.
After my death, my assets mentioned above should be divided as follows:
Item (a) should be given to my wife……………….. Whose date of birth is ………… and she resides as (address), her mother name is…………………. and father name is…………………
Item (b) and (c) should be divided equally among my children, first is my son ……………………… who is handicapped (lost his eyes), who's date of birth…………………. and my daughter………………….. Whose date of birth is…………………. and married to…………………..
Both the witnesses are present together while writing and signing this will.
Testator signature   :
Name and  address   :
Date and Place :
(1)  Witness  Signature (Name and address)
(2)  Witness  Signature (Name and address)