Year 2000:- Our neighbour Sen Uncle retired after a continuous service of thirty five years in a public sector company. He starts to get a regular pension income for life, which is equivalent to fifty per cent of his last income, subject to revision based on inflation. His net worth consists mainly of his employee provident fund (EPF) which would generate income to support his pension, his self occupied house and a second house which he bought with the intent to gift to his son, on his marriage. All of this was the creation out of the meager income from salary of a public sector employee with a high resolve towards financial discipline.
In the same year his son Shekhar, graduates and starts his career with a private bank at almost the same salary as his father's last salary before retirement. Shekhar, as a college student always ran out of pocket money before the 15th of the month and he would then successfully convince his mother to top up his pocket money which would help him to crawl through the rest of month.
Come 2012, life is the same for Sen Uncle who lives the life as usual with no compromises,  but continues to focus on financial and dietary discipline; so it is for Shekhar, still a banker, the only difference being that he is in his fourth job since 2000. He got married to Sangeeta in 2007 and they have a son, Arnav 4 years old. For him the bank account still hits the bottom by mid-month, the only change being it's not his mother who funds it anymore but it's either the credit card or at times, his wife who works for an advertising company. Post marriage under pressure from his wife, Shekhar has started some investments to fund his son's education; though half heartedly since the event is 15 – 20 years away and he cannot digest why worry now for something that is still far away.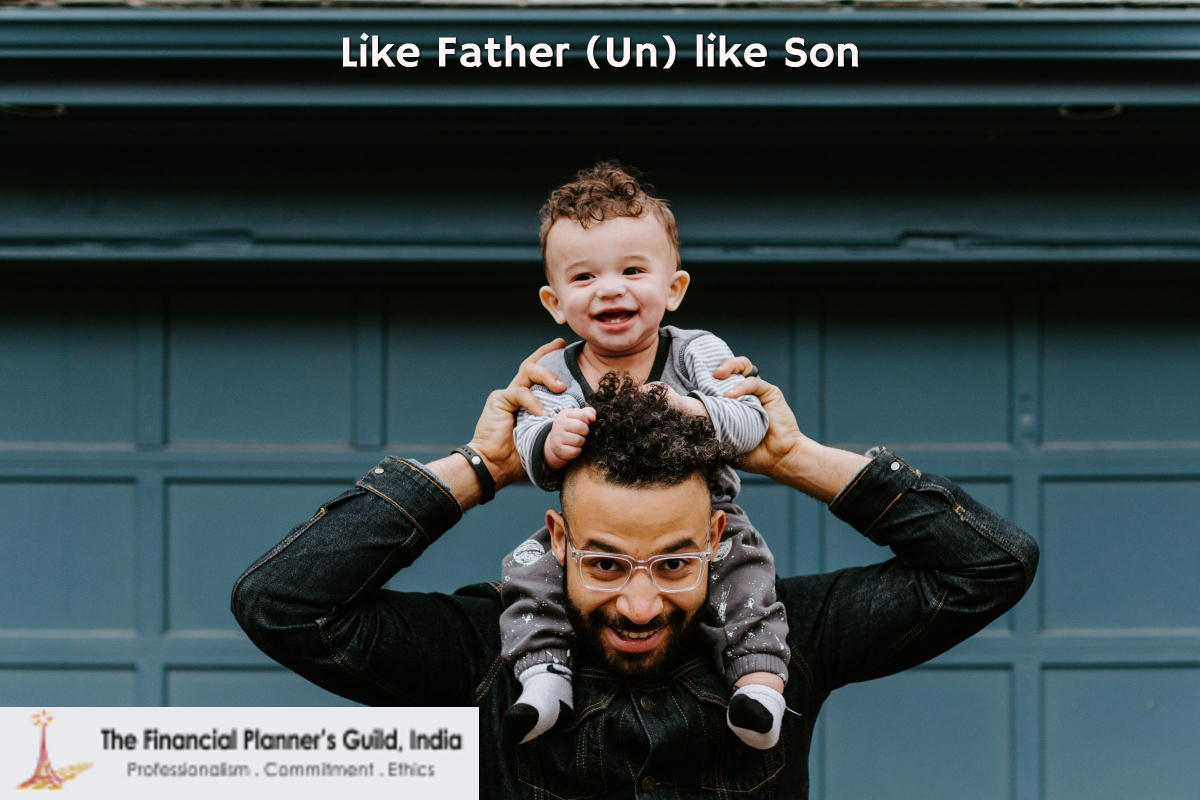 What really went wrong when Shekhar had a perfect role model, his father, with him at home to look up to:
1. The fundamentals /basics of finance as a subject are never taught at school and most of the times neither is it openly discussed at home, particularly in front of kids. Hence Shekhar missed the best that his father could have passed on to him. And now that he is independent and in a different era, it is difficult to take advice from his father, not realising that the basics always remain the same.
2. Every new day is taking us closer to that destination in future where our commitment/goal lays, hence the money like water, if not directed rightly finds its ways. Shekhar always believed in living the day as it comes, prioritisation was missing and the income found its ways into new cars, exotic vacations and even sponsoring a friend's birthday party.
3. Credit card is a great tool if used judiciously, but lethal if used as if it's Aladdin's genie that shall bear the cost. Shekhar, a banker himself, uses it to such extent that at any given time he has some outstanding towards it and pays interest on it at the rate of 36% per annum.
4. Insurance is about transferring of risk to the insurer at a small cost called premium and a hedge against financial losses due to medical uncertainties or untoward incidents. For Shekhar, the probability of such an event happening is a marginal percentage, so he decided against transferring the risk without realizing that it can steal away entire savings and /or future earnings in case such an event strikes. He ended up paying a huge hospital bill when he was shifting jobs and was caught without a medical cover.
5. The purpose of EPF is to fund important goals like retirement, education, home purchase etc and at times uncertainties and can be carried forward to the new employer on change of job. Shekhar however invited friends and colleagues to parties out of the withdrawn EPF proceeds received on changing organizations.
Sekhar finds the pain of sacrificing today is far greater than the pleasure of having that corpus tomorrow, not realizing that neither mother or the Aladdin's genie shall come to the rescue when salary cheque shall not hit his account any more from any employer. Unlike his father, who built his retirement corpus by way of EPF, Shekhar spent the EPF on those short vacations & parties, not realizing that it was actually meant for the long vacation ( which is retirement ) and all long vacations need to be planned well, whether it is the destination, the bookings, the budget etc.
When it comes to planning for retirement the earlier the better, as the time available is more, because  retirement is not a short weekend but a whole life in itself.