A top-up health insurance is an additional policy to the base standard policy.  Top up policies can be issued either as individual or as  floater policies. The top up policy comes into force only when the hospitalization expenses exceed the threshold limit of the base policy. This limit is called deductible. A deductible is that portion of the claim amount that is not covered by the insurance company and has to be paid by the insured person/insurance company providing the base cover. For example if the top up policy is taken  for Rs 9 lakhs with deductible of Rs 4 lakhs, then Insurance Company providing the Top up cover will entertain claims only when the claim amount exceed Rs 4 lakhs and claim of max  Rs 5 lakhs will be paid by the Company. The initial amount of Rs 4 lakhs will be paid by the Company providing the base cover or it has be borne by the policy holder himself if there is no base policy. In case of floater top up policy, the deductible is applied to each individual claim and not in aggregate.
Price advantage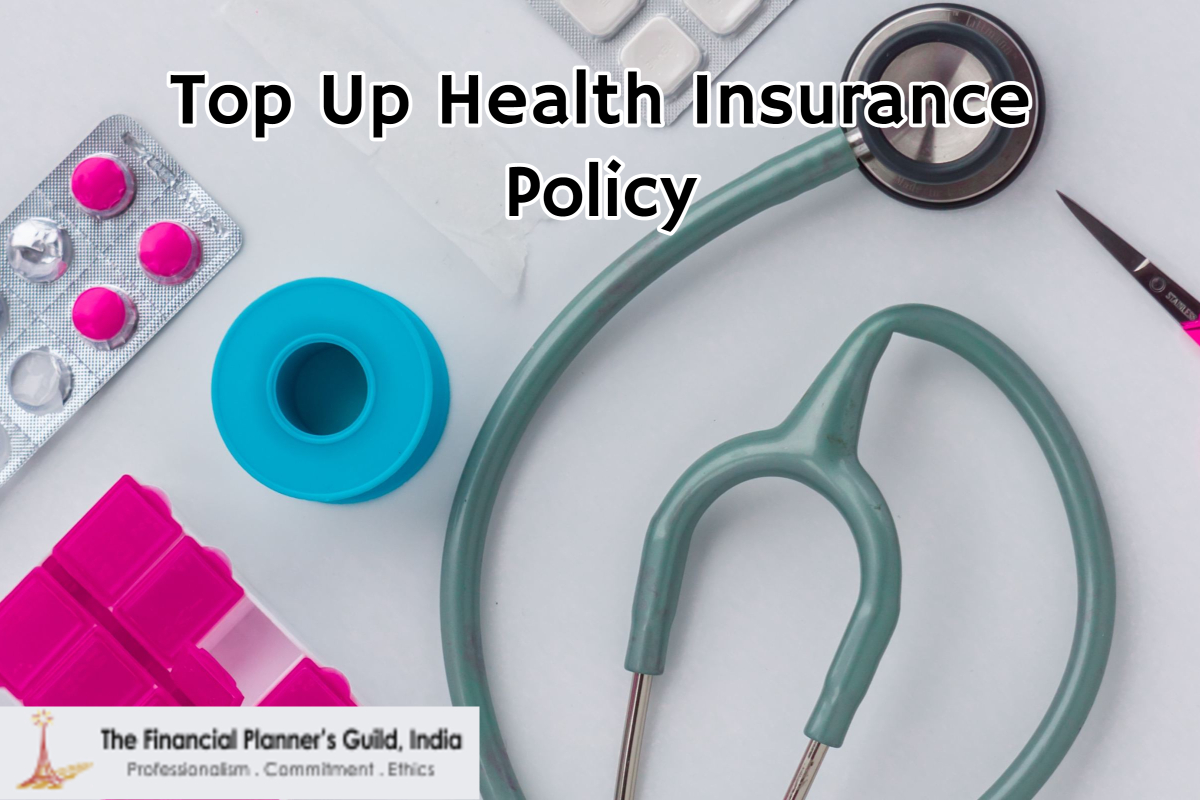 There are pricing advantage of a top up cover as can be observed from the  following  example:
Option 1: If a senior citizen, aged 61 years takes an individual health insurance policy  for  Rs 5 lakhs from Apollo Munich, the annual premium comes to Rs 28921/- (approx)
Option 2: Alternatively, he can opt for a combination of lower individual cover and balance as top up cover. In this case he can take a base policy of  Rs 2 lakhs for the which premium will come around to Rs 13,500/-(Approx)in Apollo Munich   and  a top up  cover of Rs 5 lakhs with deductible amount of Rs 2 lakhs for which premium will be around  around to Rs 5,704/-(Approx). So he will have to pay Rs 19,204/- in aggregate for total cover of Rs 5 lakhs.
Hence Option 2 is cheaper than option
  Other Advantages
  These policies are affordable due to lower premium compared to standard hospitalisation policy. Further if the employer provided cover is not adequate, top up policy is suitable. It comes in handy for senior citizens who otherwise have to pay exorbitant premium for additional cover. But it cannot help, if the individual claims are all below the threshold limit. Top up policies can be taken as add-on policies with any other health insurance policy. One can buy top up health insurance policy in any insurance company, even if his/her base policy  is from some other company. Income tax benefit is also available on the premium paid as per section 80-D of income tax Act.
Comparison of top up policies
(Service tax  taken at 10.30%)
Name of the Company
United India
Bajaj Alliance
Star health
ICICI Lombard
Bharti Axa
Apollo munich
Name of product
Super top up
Extra care
Super surplus
Health care plus
High deductible
Optima Plus
Minimum cover
Rs 5 lakhs with Rs 2 L deductible
Rs 10 lakhs with Rs 3 L deductible
Rs 7 lakhs with Rs 3L deductible
Rs 5 lakhs with Rs 2L deductible
Rs 3 lakhs with Rs 1L deductible
Rs 5 lakhs with Rs 5L deductible
Maximum cover
Rs 20 lakhs with Rs 5 L

deductible

Rs 15 lakhs with Rs 5 L deductible
Rs10Lakhs with Rs 5L

deductible

Rs 10 lakhs with Rs 4 L deductible
Rs10lakhs with Rs3L deductible
Rs 5 lakhs with Rs 1L deductible
Entry age
18-80 years
18-70 years
5-60 years
5-60years
5-65 years
3m-65 years
Renewal up to
Life time
80 years
75 years
70 years
70 years
Life time
Waiting period for pre-existing illness
 4 continuous year
 4 continuous year
3 continuous year
 4 continuous year
4 continuous year
 4 years
Premium for Rs 10 lakhs sum insured with Rs 3L deductible at  35 years
Rs 3,199
Rs 2,758
Rs 4,412
Rs 2,206
Rs 1,442
Rs 1,158*
*Rs 1,158/- premium for sum insured Rs 5 lakhs with Rs 2 lakhs deductible