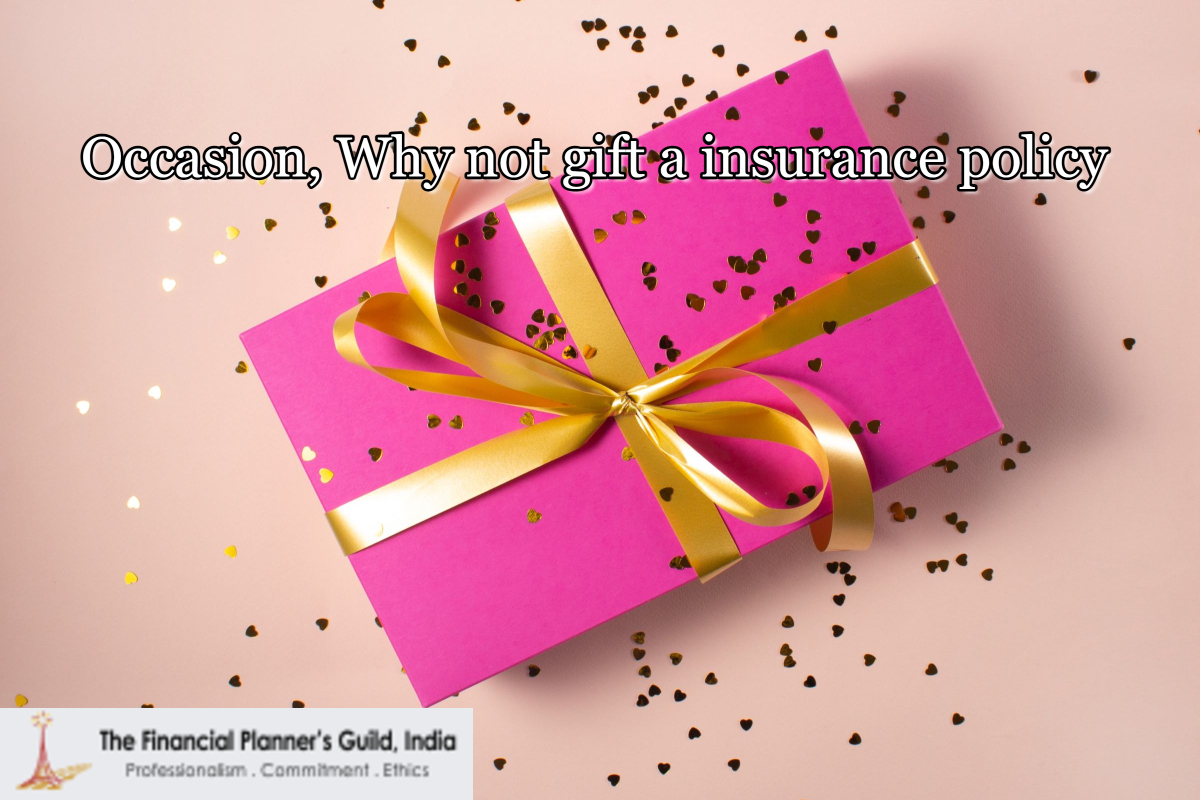 One of my client, called me sounded worried. His father, who was retiring in two months after an illustrious career in a private sector bank, would be exposed to medical expenses after his retirement. I explained to him that he can take a medical insurance policy and I also told him to pay the premiums so that he also gets a tax deduction under Sec 80D. He seemed to be relieved. He wanted to know if he can gift the policy as Retirement Gift to his parents.
We always celebrate occasions with exchange of gifts as the 'pleasure of giving' makes us very happy and satisfying. So why not gift insurance?
Insurance is basically the cover over a mis-happening. It ensures achievement of goals even when the person is no more. So, it will actually make a good gift for near and dear ones.
The Adequacy of Insurance
Can you ever think of gifting a wheelchair to a newly married couple or say a pair of skates to a 60 year old retiring teacher? Insurance is a need driven product. You need to be careful while gifting. The wheelchair mentioned above can easily be re-gifted to the couple's in-laws, but insurance cannot be transferred like this. It involves cost and long term commitments of paying future premiums. Basically, you need to consider these thumb rules:
Type of policy: There is a wide array of policies available in the market. You need to choose the right one, according to requirements. Which policy is appropriate depends on the person's situation in life.
How much?: Before gifting you also need to take care of the cover that you are gifting. If practical, gift the correct amount of cover that may be needed – appropriate amount of life insurance, medical insurance, home contents insurance… will enable the recipient from running around for more plans to fulfill the requirements.
Occassions for gifting :
Marriages are the most expensive of the occasions in our country. But with the blessings, gift a Term plan to the groom. He is entering a new phase of life with enhanced responsibility of forming a family. He needs extra cover over his life and this term insurance would help him counter any catastrophic downsides. Also with base policy, consider gifting the Critical Illness Rider and Personal Accident Rider with it. Also gifting a Mediclaim with pregnancy cover would be ideal for newly wedded.
Child birth symbolizes entry of new life in the family. But the new life is a big responsibility as we need to plan for his/her expenses and education. The plan should cover two things, the benefits arising due to the death of the bread winner and should be able to finance all the sub-steps during the education phase. Contrary to seemingly irrefutable logic of a child plan, a term plan is suggested, as this would cover the risk of education underfunding due to loss of parent.
First employment is actually the day when one learns the value of money. Gift him an investment policy where he can continue to save a small portion of the salary on monthly basis. This will instill good habits of saving and investment from the initial days itself.
Retirement is the time when you can cover the medical expenses of the retiring person. Gift him a floater policy so that the spouse is also covered under the same policy. A pension market is still developing in India. In future, you may also be able to gift annuity to your retiring parents and save taxes on the outgo.
But if you ask me personally, I would prefer Term Insurance as the best option as I advocate one should not mix investment with insurance.
As it is acclaimed, gifting is an art. You need to get zero in on the right plan to suit the occasion. In Japan, each gift or omiyage as it is called there, needs to be neatly presented. They describe the gift and also elaborate the purpose of gifting. Likewise we should always explain the rationale behind gifting a particular policy. Not all occasions may permit this but seek a suitable time from the recipient and explain him the benefits of the plan.